WSAU News, 30 September 2016
Zach Hagenbucher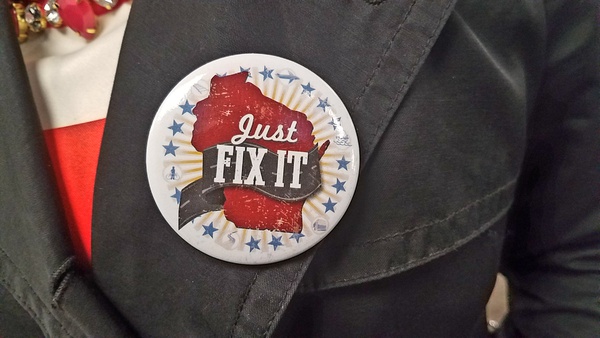 WAUSAU, WI (WSAU) — Governor Scott Walker wants to put more money towards local and state road maintenance over the next two years, but there are still some who want a more permanent revenue solution.
The Transportation Development Association of Wisconsin Held a town hall meeting in almost every county Thursday night for their "Just Fix It" campaign, taking ideas from taxpayers and bringing them to state legislators to work towards a solution.
Marathon County Highway Commissioner Jim Griesbach conducted the Marathon County meeting. He appreciates Walker's efforts to help, but he also believes it's just a stop gap.
Griesbach said, "It's great for the short term, but just to maintain our roads doesn't work. We need to build roads, we have roads and bridges that need to be rebuilt here, not just in Marathon County, but throughout the state. Stopping mega projects just to fund those is not a complete solution."
The Transportation Development Association has suggested higher vehicle registration fees or an increase on the gas tax to help raise revenue specifically for road projects. Griesbach thinks the gas tax would be better as a percentage rather than a fixed amount.
He said, "Most taxes are a percentage base. The gas tax is actually cents on the dollar, so while the vehicles' [gas] milages are increasing, over the years we've actually declined at about 2.5% of funding in the transportation fund. It it were a percentage, those funds would be going up."
It may take a while to establish the kind of solution that the TDA is looking for. Governor Walker has insisted that he would veto any bill that raises cost to taxpayers on this issue, but even Assembly Republicans have been pushing back at him on that position.